Please Help

We all have the ability to save lives one animal at a time. Join us in saving lives.
Please consider making a donation today.
---
Iggy came to us on Memorial Day severely dehydrated and unstable on his feet. He was taken to

Fox Valley Animal Referral Center

for treatment and he spent the night. He was more alert/feeling better the following morning and returned to the shelter, but he soon relapsed. Back to FVARC he went where further testing revealed he was at high risk of developing feline urinary tract obstruction with struvite crystalluria which can be deadly if not treated.

He was treated with preventive care and after another overnight stay he was urinating on his own. He is improving daily and is on a special C/D food currently. He is very friendly and enjoys when the staff stops by to visit him and note his progress.
---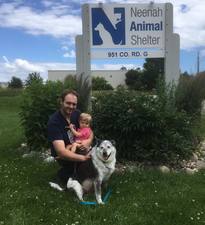 ​Ohana is a wonderfully docile cattle dog mix that came to us as a stray last week. We were shocked when no family came looking for her because she is the "perfect" dog! She loves squeaky toys and going for leisurely walks. Her demeanor is nothing but calm and collected. All she wants is a scratch or pet.

It was pretty obvious upon her arrival to the shelter that she needed some medical attention. Her vet visit revealed that she has mammary tumors, but the good news is surgery is an option! The operation will cost anywhere between $620-$1,221 depending on how much needs to be removed. She also needs to be spayed and receive a dental.
​
We are asking our friends, family, supporters, and community to donate to our Help Me Heal Fund so we can provide the medical care this girl deserves!

Updates:
​Ohana wanted to let everyone know she made it through her surgery like a champ! The tumors have been removed and she is nothing but smiles! Thank you all who donated towards her care.

Ohana received more news from her doctor last week and although the surgery went well, a few of the tumors were cancerous. With this news, we are hoping to find Ohana a forever or foster home that will love her just as she loves everyone full heartily. She has the most docile personality and lives to be by your side and petted. She does not mind the company of cats or other calm dogs. Her hobbies include star gazing, long naps, and picnics.

June 24, 2017
​Ohana has found her forever home! It takes a special family to invite a dog with special needs into their lives and we are so glad they found each other!


---
---

Help Me Heal Success Stories from 2016

---
Taryn is a wonderful 7-year old yellow Lab that came to us as a stray in mid-August. Taryn has several mammary tumors, the largest being 5 cm wide, that need to be removed. It is not clear if the tumors are benign or cancerous, but they will be biopsied after surgery. This procedure alone will cost roughly $1,500. This does not include if she needs to be spayed and the dental work she will need. Taryn has a typical lab personality. She is goofy, friendly, and is a true people pleaser. NAS strongly believes she deserves a second chance at finding a forever home. Please, if you can't adopt or foster, consider giving a donation of any amount towards her care.
Update: Taryn has had multiple rounds of surgery to remove all the tumors. Throughout the process she has been recovering with a foster family and once she was fully recovered she did find her forever family.

---
| | | |
| --- | --- | --- |
| | | Loco is a 13 year-old love bug that was surrendered when her owner passed away. She is sweet and friendly, meaning she will do everything in her power to ensure that you pet her. She likes to play with other cats and does well with children and dogs. She does have a thyroid condition that requires daily medication. The meds are not expensive, but the cost adds up. Please, if you are considering adopting, come meet Loco or consider donating to our Help Me Heal Fund. Update: Loco was adopted. |